Brand: MAKTRANS
Product Code:

JF015EPUMPREF

Product model copied to clipboard

Sold:

46

Weight (kg):

2.3

Availability: 469
Condition (used, new):
refurbished
If you order more than 11 pcs - shipping time will be longer at few days
| | | |
| --- | --- | --- |
| Stock Place: | Availability: | Qty: |
| Poland | 11 pcs. | |
| Ukraine | 458 pcs. | |
Product overview

Shipping & Payment

Questions - Answers (0)

Related products
PAY ATTENTION - PUMPS IN REPAIR AND FOR EXCHANGE ARE ACCEPTED ONLY DISASSEMBLED !
A common problem with the JF015E RE0F11A variator is an oil pump, due to the wear of the pressure reducing valve, the pressure drops, which leads to such symptoms as belt slips and slippage. The driver feels it as jerks and thumps when switching modes DRIVE / PARKING / REVERSE.
There are several solutions to the problem:
:1) Buying of used pump in good condition.
2) Installation of a new valve which is made in standard size. This type of repair is suitable if there is no wearout in the pump itself, the tightness will be restored.
3) Installing an oversized valve, Maktrans specialists ream the hole in the pump on the CNC milling machine to the size of the repair valve.
Let`s consider the third option. We use exactly the milling machine and not the reamer because this method allows us to obtain a "cleaner" surface of the hole being machined.
Step one, the pump housing is fixed on the machine
Reamng The first pass of the cutter - roughing, the second - reaming a hole to the desired size.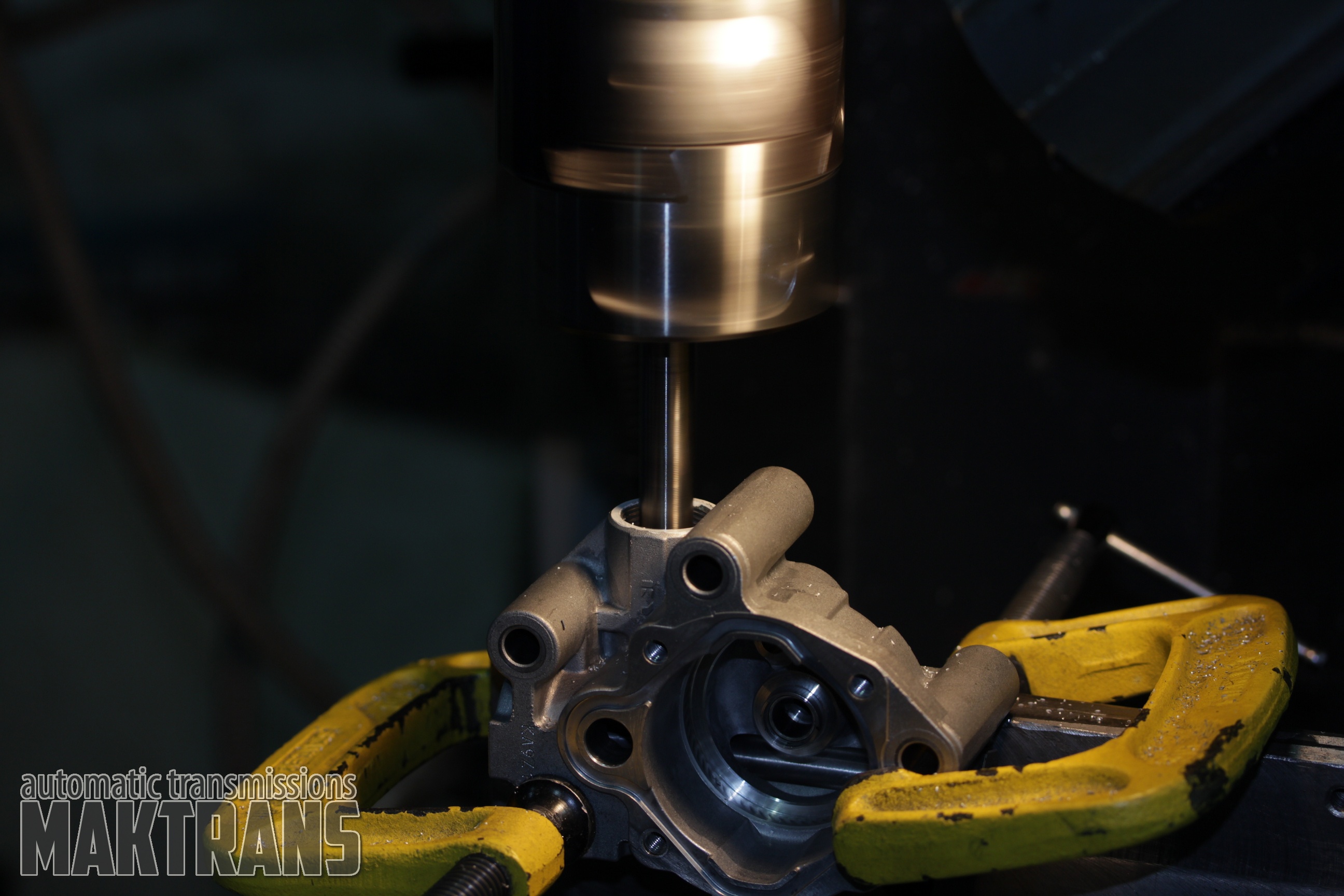 Result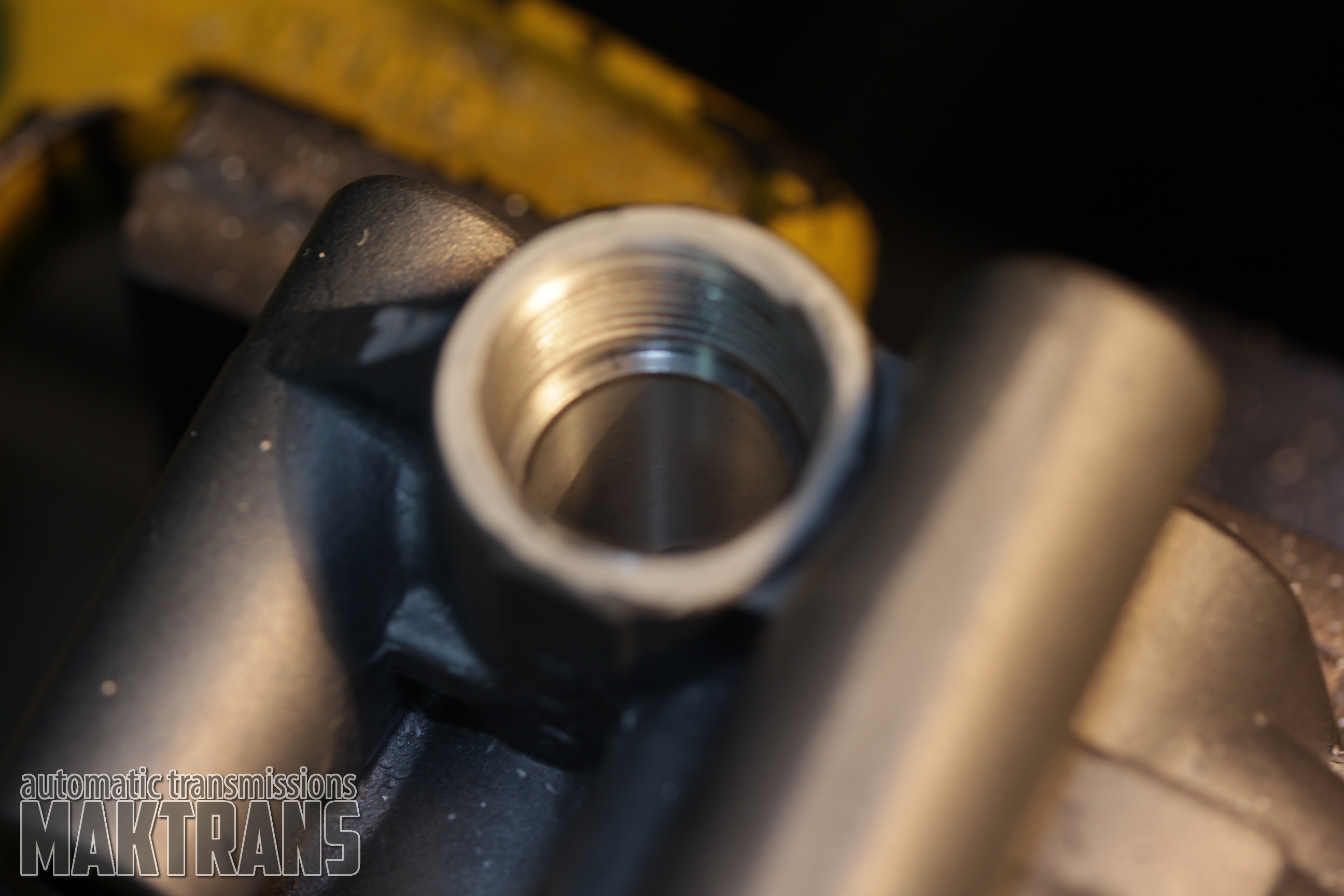 Vacuuming. The vacuum test should not show results below 14 inches of mercury, all above 20 is an excellent indicator.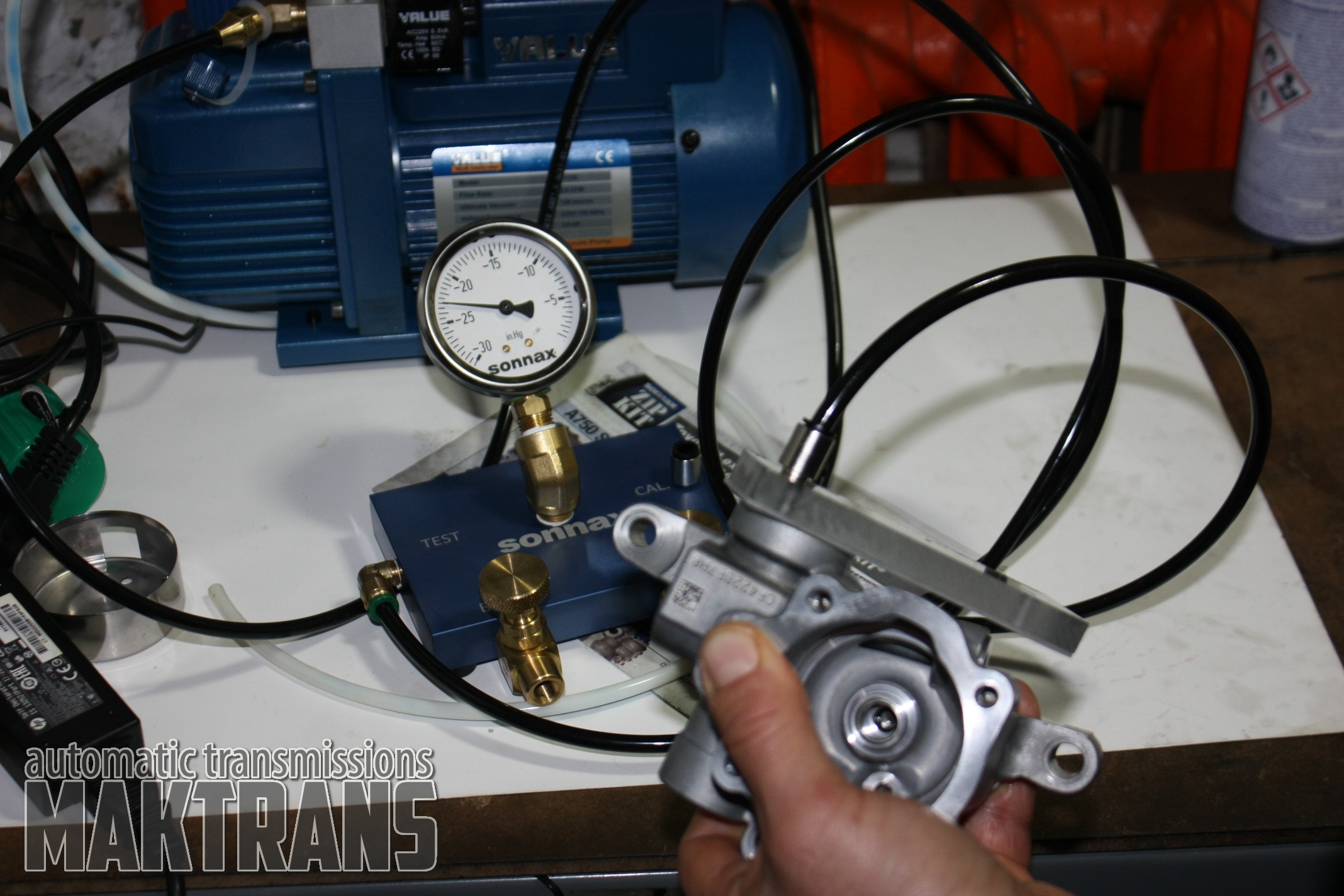 PAY ATTENTION - PUMPS IN REPAIR AND FOR EXCHANGE ARE ACCEPTED ONLY DISASSEMBLED !
The pump is on sale for $ 50 with an exchange for your faulty pump. There is an exchange fund, you can order this item on the website yourself and on the same day we will send you a pump with an installed oversized valve. After receiving your pump - we will refund $ 50 to the account.
Any questions? The repair departmentwill advise on any technical issues:
Warsaw Repair department
+48 799 920753 ​
+48 574 515898 ​​
Shipping & Payment
Payment
PayPal (Payment to a PayPal account, without obtaining European VAT documents)
Bank Transfer P2P only (Payment for private banking account, without the possibility of obtaining European VAT documents)
Crypto Payment (If you want to make payment in cryptocurrency, without the possibility of obtaining European VAT documents)
B2B sale with VAT ID: no VAT is charged (When buying for more than 300 euros, B2B sale with VAT IDfor countries VIES: no VAT is charged (With mandatory indication of the European VAT number and receipt of documents for the company) when buying for more than 300 euros
Shipping
We work with shipping companies like DPD, DHL, UPS and ordinary mail - Poland Post. Shipping cost you can see during checkout and on product page (you can use button "Estimated shipping cost")